Co-Founders 
Dr Tara de Mel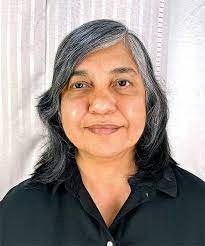 Dr Tara de Mel was a Senior Lecturer in Physiology, at the Faculty of Medicine University of Colombo until 1994, after which she was appointed Director, Sri Lanka Foundation Institute. In 1997 she was appointed Advisor to the President of Sri Lanka on Social Infrastructure. She also served as Vice Chairperson (Policy) – National Education Commission and Secretary to the Ministry of Education & Higher Education. She steered the work of Presidential Task Forces on General Education, University Education and Tertiary & Vocational Education.
She served two terms as a member of the Board of the Commonwealth of Learning, in Vancouver. Since 2017 she's been part of several teams which designed programs for teaching mindfulness to school children. In 2018, together with the Ministry of Education she initiated programs for school teachers on mindfulness-based initiatives for values, ethics, empathy & respect for diversity within classrooms. She also helped design programs to assess the impact of mindfulness in students. In 2020 she co-founded the 'Mindful Educators' initiative which aims at sharing values, empathy and kindness, based on a foundation of mindfulness with Teachers & all Educators. She is a member of the Global Consultative Group of Mindfulness Initiative UK. In 2019 she co-founded the Coalition Against Violence in Universities, which champions eradicating all forms of ragging & violence in universities & higher education institutes. She also co-founded Education Forum Sri Lanka, an initiative which facilitates dialogues for catalyzing policy reforms in education. She is a member of the volunteer organization, Religions for Responsible Governance which consists of senior clergy of all religions as well as lay persons. In August 2019 she received National Honors : Sri Lanka Sikhamani.
Dr Sujata Gamage
Sujata specializes in planning, evaluation and capacity building in education, ICT in education, research and research networks, and public sector performance using data analytics, institutional research, scoping studies, systematic reviews, statistical methods and simulations. She is currently a Senior Research Fellow at LIRNEasia, a regional think tank based in Colombo, Sri Lanka.
Her recent research includes an evaluation of ICT use in schools in Sri Lanka, ICT for development or ICT4D education in universities in five countries in the Asia Pacific, Indicators of workforce readiness for the 21st century in the context of ICT-enabled freelance work, and a systematic review of factors affecting the use of ICTs in the classroom by teachers. Her recent public service work includes serving as a Member of the Committee of Experts to review the roles and functions of the Department of Examination of Sri Lanka and serving as the co-convenor of the Education Forum Sri Lanka.
Her professional career includes serving as (a) Director-General of the Tertiary and Vocational Education Commission of Sri Lanka, revitalizing the implementation of an ADB funded project on a national vocational qualification framework for Sri Lanka (b) Consultant to the University Grants Commission of Sri Lanka developing faculty quality ranking for the system (c) Analytic Director of a team of consultants at QRC Macro International in Bethesda, Maryland, USA, responsible for conducting and reporting on science resources for the US National Science Foundation and (d) Strategic Planning Specialist at the Ohio State University, USA, developing an academic quality scorecard for that university, and (e) Administrator of Research Support Programs at the Ohio Board of Regents, Ohio, USA. In her previous career as a university teacher and researcher in Chemistry she has served as a member of the faculty in the University of Sri Jayewardenapura and the University of Colombo.
Sujata holds a Ph.D. in chemistry from the University of British Columbia and a subsequent Master's in Public Administration from the Ohio State University of USA.
Advisory Board
Dilani Alagaratnam
Dilani is a lawyer by profession and retired from John Keells Holdings PLC, Sri Lanka's largest listed diversified conglomerate in 2019 after 27 years of service.  At the time of her retirement she was a member of the Group Executive Committee and was responsible, at a Group level ,for HR, Legal & Secretarial, CSR, Sustainability and Enterprise Risk Management functions, among other responsibilities. Currently she serves on several Boards of Directors, is the chairperson of the Legislative Sub Committee of the Chamber of Commerce, the premier Trade chamber in Sri Lanka, and serves in an advisory capacity in the TVET sector. In the past, she has headed the HR and Education Sub Committee of the Ceylon Chamber of Commerce and been a long standing member of the National Labour Advisory Committee.
Kavindya  Thennakoon
Kavindya is a dean's fellow at the Stanford School of Education with a background in Learning Experience Design and Anthropology. Prior to Stanford, she graduated cum laude from Wellesley College, MA majoring in Anthropology and Cinema & Media Studies with a focus on design anthropology and education. Her research focuses on metacognition within the social-emotional learning space and finding ways of measuring and improving higher-order thinking at an early childhoo
d stage. Currently, she is building Tilly; a game-based learning tool focused on developing metacognition, empathy, and critical thinking skills of early learners. Tilli chases the ambitious mission of ensuring that no child grows up to be either a perpetrator or victim of sexual abuse or assault.
In 2014 she co-founded Without Borders; a social enterprise focused on designing innovative learning and training tools for local schools and educators. Without Borders won both the inaugural Queen's Young Leaders Award and the Harvard Global Trailblazer's for their impact within the local education space.
Previously she worked for Arimac building their User Experience Research (UX) capability and also the MIT Media Lab as a Civic Entertainment Researcher. Her previous engagements have spanned across Ed-Tech, strategy, and development, working for Coursera, Ogilvy/IBM, United Nations, the Oxford Microfinance Initiative, and Transparency International Sri Lanka.
Dr Angela W Little
Angela W Little is Professor Emerita at the University College London Institute of Education. She is a Fellow of the Academy of Social Sciences, a former Fellow of the Institute of Development Studies, University of Sussex and former President of the British Association of International and Comparative Education. She has worked with Sri Lankan colleagues in various education roles since 1975. She continues to be actively engaged in the field of Education and International Development through research, teaching and practice (www.angelawlittle.net).
Dhananath Fernando
Dhananath (fondly known as Dhana) is currently the chief operating officer of Advocata, an economic policy think tank in Sri Lanka, where he is a founder member.  Prior to founding Advocata, Dhananath worked as an Associate Research Director at Breakthrough Business Intelligence, a leading market research agency in Sri Lanka.  He read for his Bachelor's degree in Bio Sciences and Bio Chemistry at the University of Colombo and is an alumnus of the International Visitor Leadership Programme by the State Department of the United States of America.  In his social responsibilities, Dhananath works with 'people in need' by volunteering with CandleAid Lanka, a government approved humanitarian organisation.  Dhananath is an enthusiastic mountain climber and a trekker.